CMU students dive below the surface of art and musical performance – News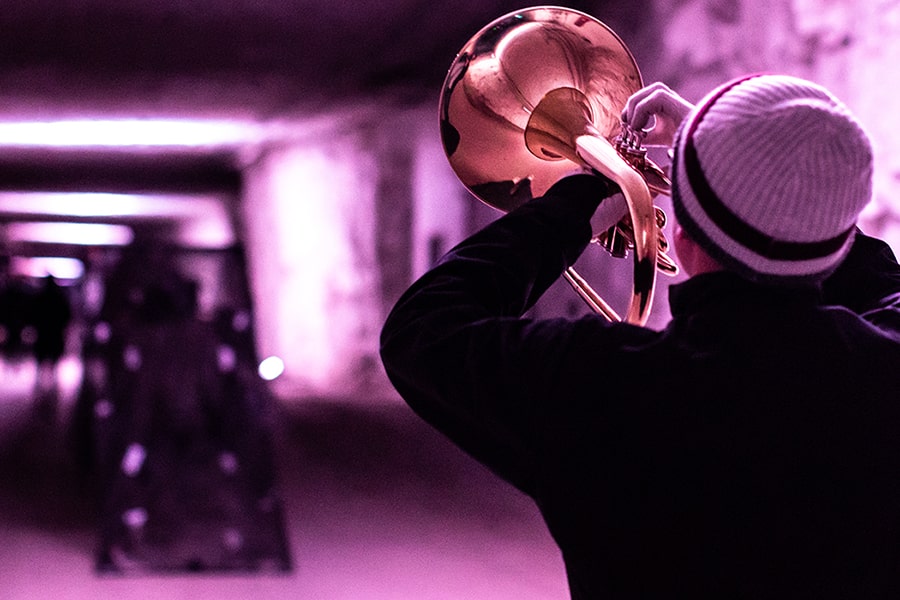 December 04, 2018
For the second year in a row, students from Carnegie Mellon University lit up the dark hallways and winding passageways of a limestone mine with art installations, musical performances and costumed movements.
"SubSurface: Site-Specific Sight & Sound," an hour-long interdisciplinary festival, drew about 250 attendees Saturday to the inactive Brady's Bend mine in Armstrong County. The size of the mine is estimated to be twice that of the tallest building in the world.

CMU students light up the darkness of a limestone mine in Armstrong County, Pennsylvania.
The festival is a collaboration between students and faculty at CMU's College of Fine Arts, School of Computer Science, BXA Interuniversity Degree Programs, and the IDeATe (Integrative Design, Arts and Technology) network.
Students from Scott Andrew's Activated Anmorphs class added an interactive element to this year's festival. Their movement-based performance and costumes reflected aspects of subterranean lifeforms or objects, such as anglerfish, fossils, and bats. Activated anamorphs moved into the character of the music performed by the exploded ensemble of IDeATe and the musical group Bombici. The musicians, in turn, improvised in response to the movements. Concept Studio: Space and Time students also contributed inflatable, projected, shadow-based, and moving artwork.
"It's about creating a surreal experience for a viewer that maybe could catapult them into a different way of thinking," said Andrew, a multimedia artist and assistant professor at CMU's School of Art. "It's something that takes people out of their daily lives and gives them an exciting experience."
Jesse Stiles, co-organizer and assistant professor at CMU's School of Music and IDeATe, said the limestone mine is a place where students can reimagine their landscape and themselves, changing the way they sound and look. . The space also challenges students to rethink performance spaces and how music is presented.
"For students, the real educational value is that they're literally rethinking everything because there's no infrastructure for them," Stiles said. "You have to rethink the sound and the articulation of the sound. It is an excellent musical exercise.