Jimmy Fennessey '19 excels in musical performance through practice and persistence – The Denisonian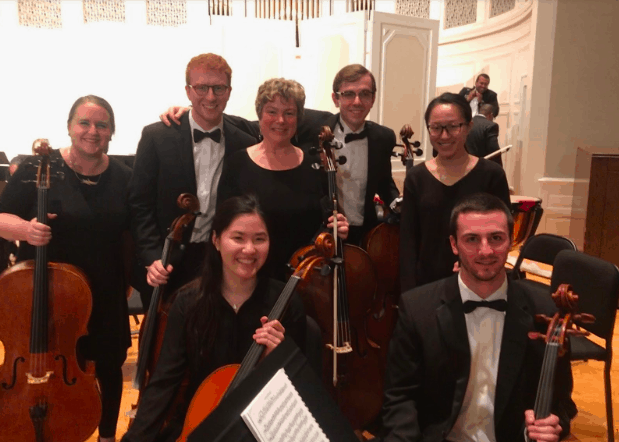 JOANNE LEE '21, Special for The Denisonian – Going to a small liberal arts school, it's easy to feel surrounded by students involved in a million other extracurricular activities besides keeping up with academics. Sometimes it can get stressful and overwhelming, especially on a campus like Denison, and it can be hard to find the balance.
Recently, I was lucky enough to sit down with a math and music double major, Jimmy Fennessey '19. An accomplished musician, he recently won Denison's inaugural concerto competition and performed at Swasey with the rest of the orchestra at their concert and had his senior recital, the culmination of his 11 years on the cello.
"I actually came in thinking I would major in history and minor in music, but found myself loving math and decided to major. I still love the story though! As for music, I practiced and participated in all the ensembles and I thought why not specialize since the only difference was a few more lessons.
Music played a big role in his life. He has been playing the cello since 5th grade and enjoys other art forms as well.
"I spend 2-3 hours practicing every day, which includes the orchestra and private lessons. I try to practice every day because even if I miss a day, I can feel a difference, musically and technically.
During his four years at Denison, a lot has changed, including the opening of the new Eisner Center in the music department.
"It's become more structured, with more tenured and tenure-track professors joining. I think there has also been an increase in student participation, which is always good.
What hasn't changed is the dedication of faculty and staff.
"Dr. Kuyvenhoven had such a positive impact on my time here at Denison. She not only helped me technically, but really helped me express myself artistically. I also really appreciate Dr. Rudd's clear focus and the direction it gives for [Denison] orchestra. Before each rehearsal, we know the goal and strive to achieve that goal.
After Denison, Jimmy would spend a lot of time out of the country, spending his summer in Morocco learning Arabic on the CLS (Critical Language Scholarship) and the following year in Jordan studying the language on the Boren Scholarship.
"Actually, I've always wanted to visit the Middle East, and I think politically it's also very interesting. I studied abroad last fall in Jordan and after that I wanted to go back and learn more about the language and the country.
If there's one piece of advice he wants to give readers, it's "Do what you want to do in college, not what other people want you to do."
Similar Items