Local musician uses his talent to raise over $150,000 for Boscobel Cemetery after tornado | New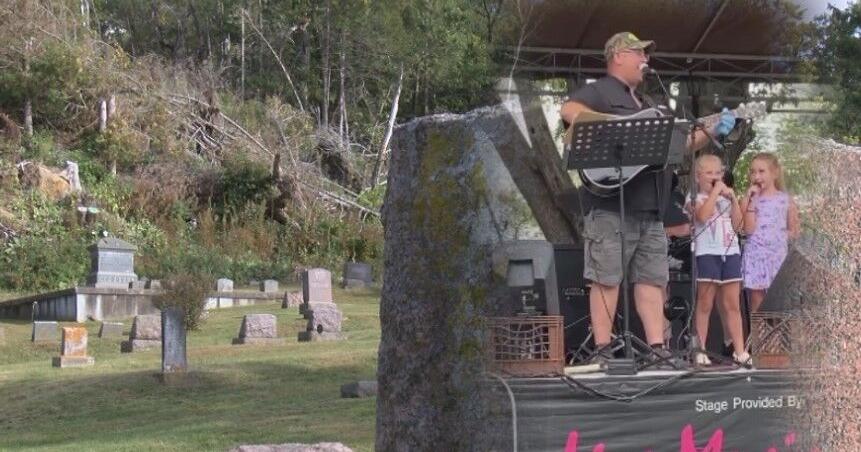 BOSCOBEL (WKOW) – Just over a year after an EF3 tornado ripped through the small town of Boscobel, many areas, such as the local cemetery, still show signs of damage. However, a local musician is trying to change that.
The Boscobel tornado destroyed homes, trees, and numerous headstones at Boscobel Cemetery. Cemetery secretary Pam Zimpel still remembers the aftermath.
"It was like a war zone," Zimpel said. "I've never seen anything like it in my life."
The only funding the cemetery receives comes from the sale of plots and private donations. Thus, Zimpel and other members of the cemetery's board of directors were put in a difficult situation.
"I was devastated. I was speechless and didn't know what was going to happen," Zimpel said. "I didn't know how we were going to fix it."
Enter former musician Doug Wayne. Wayne's family has lived in the Boscobel area for over 100 years and much of his family is buried in the cemetery.
"After hearing about the tornado, what it did to the cemetery, the next morning I knew Pam was a board member – she's a lifelong friend of the family – and I called her," Wayne said. "And I said, 'What do you think I do fundraising for the cemetery? ""
Within weeks, Wayne and several other local musicians got together to plan a fundraiser for a music festival for Boscobel Cemetery. Their debut performance alone raised nearly $27,000.
They've held several fundraisers since, and even another music festival, which they plan to continue in the years to come. Since the tornado, Wayne and the surrounding community have raised over $150,000 which will be used to help the cemetery rebuild and expand.
"And there are people still sending money," Wayne said. "I mean, it just means a lot to so many people."
Zimpel says she is forever grateful for the help they received.
"I can't thank him enough. We can't thank him enough," Zimpel said. "He is incredible."