Musician Gina Coleman '90 discusses the impact of the Black Legacy project – The Williams Record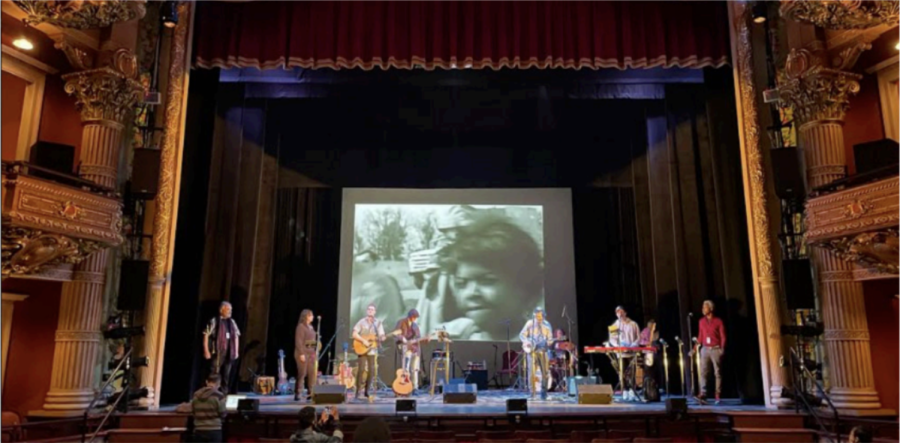 Growing up, '90s Gina Coleman was surrounded by music, but never believed she had her own voice. Today, she is the founder and lead singer of blues band Misty Blues and an active member of the Berkshire area music community. Last year, she joined the efforts of the Black Legacy Project (Black LP), "a non-profit organization that strengthens, empowers and connects communities through the universal language" of music, according to the black LPs website.
Music in Common, a non-profit organization based in Berkshire, founded the Black LP in September 2021. According to its website, the Black LP "is a musical celebration of black history to advance racial solidarity, equity and belonging". – Musicians from different backgrounds are paired. and tasked with composing a modern take on a song deeply rooted in the black American experience. Highlighting the history of black music in the Berkshires, the Black LP reinterpreted songs such as "Strange Fruit", "My Country Tis of Thee", "Lift Every Voice and Sing" and "We Shall Overcome". Coleman told the Registration that the Black LP travels the country using music to spark conversations about black history and promote racial solidarity. "The idea is to bring together communities of people to really think about what's going on in this world [with] race relations," she said.
Coleman grew up in the South Bronx but moved to the Berkshires after graduating from college. While at the College, Coleman was an English major and three-season athlete, playing rugby and ice hockey for all four years. Her connection to the College continued after graduation when she became head coach of the women's rugby team in 1996. Twenty-six years later, she continues to lead the team.
The rise of Coleman's musical career after graduation was rather unexpected. "It was a Wednesday night [at a club in Pittsfield], and we had an open mic night, and someone challenged me to sign up and sing," she said. "I'm like 'I don't really sing. And they challenged me, and I'm like, "I'm not letting a double challenge pass either." After her win, Coleman returned to the club every Wednesday for an open mic night and eventually met another musician with whom she formed her first duet, The Siblings. From there, she formed a larger acoustic funk band called Cole Connection.
The Williamstown Theater Festival offered Coleman the role of a gospel singer in a production of Lorraine Hansberry's [ITAL] A raisin in the sun in 1999, where she discovered that the blues was her calling. Singing gospel blues songs in the performance, Coleman was approached by lead actor, Ruben Santiago Hudson, who told her that her voice was a perfect fit for the blues. Hudson gave Coleman a CD of "Men Are Like Street Cars", a collection of 22 songs by female blues artists from 1928 to 1969. Inspired by this music, she and her bandmates at Cole Connection decided to become a band of blues. She has been part of Misty Blues for 23 years. Their 11th album, "One Louder", recently reached over a million streams.
Coleman's work with the Black LP began after longtime friend and Music in Common founder Todd Mack contacted her about joining the project last year. Coleman acknowledged the impact this work could have on the Berkshires' black community in light of the many race-related issues that have arisen in recent years in the country. "Over the past few years, it seems like time has gone backwards," Coleman said. "I'm seeing things I've never seen in my life – I thought we were way beyond that, but things are backing up."
Mack asked Coleman – along with his son, Diego Mongue '25, and several other Berkshires musicians – to reinvent an iconic song as his debut project. The group chose the anthem "Lift Every Voice and Sing".
Coleman explained that trying to reinvent such a well-known and powerful song — the one she used to sing every morning at school growing up — posed a challenge. In the second phase of the project, Coleman, his son and another pair of musicians sought to create an original song about themes of hope that would raise awareness of the struggles facing black communities. The group then wrote their song "Rise Up", which was featured in the CNN "Champions of Change"episode on the Black LP.
In the early phases of the project, the Black LP held community roundtables to encourage conversations about the meanings behind the original songs and how they can reshape them to reflect their current feelings about race relations. "There were times when we were digesting the songs that we were reinventing, and going through the lyrics line by line and trying to make sense of the lyrics of the composers," she said. "It was a really interesting part of the whole project, to first get a baseline of what race relations is and what the struggles of people are in our own community."
The roundtables gave Coleman a better sense of the challenges black people in his community faced. "I had never had such a broad view of what was happening through [Berkshire] county," she said. Coleman felt a sense of solidarity as she spoke about the racial injustices she witnessed in her community. "Unfortunately, what others were seeing were the same things I had seen over the years – and there was a strange comfort that I was not alone."
Having played drums for 12 years, Mongue is also a multi-instrumentalist and can play bass, slide and lap steel guitar. He plays drums and bass for Misty Blues and is the drummer for several college performance bands, including Kusika, Zambezi and two jazz ensembles. Last summer, Mongue also started his own jazz fusion band named GrossMongue.
Mongue said his goal in reworking "Lift Every Voice and Sing" was to retain the song's original meaning while adding his own style. "What I wanted to do most was preserve the integrity of the song while bringing something completely different," he said. The most memorable part of the experience for him was the Black LP's performance of the song at the FreshGrass Festival in North Adams last September, which he watched as an audience member. "It was so cool to see the songs I had written and arranged for the band being performed, to be a bit removed from it and to watch this thing you created being performed by 11 amazing musicians," Mongue said. .
He also reflected on the impact of the Black LP on the Berkshire community. "Music is a very universal language, and although it's different in different parts of the world, everyone has music and can relate to it," Mongue said. "People were just kind of amazed and filled with this warm feeling that we did this and we were able to bring people together – just musicians together to start something that will cause change."