Remembering Art Rosenbaum: Artist, Musician and Mentor to Many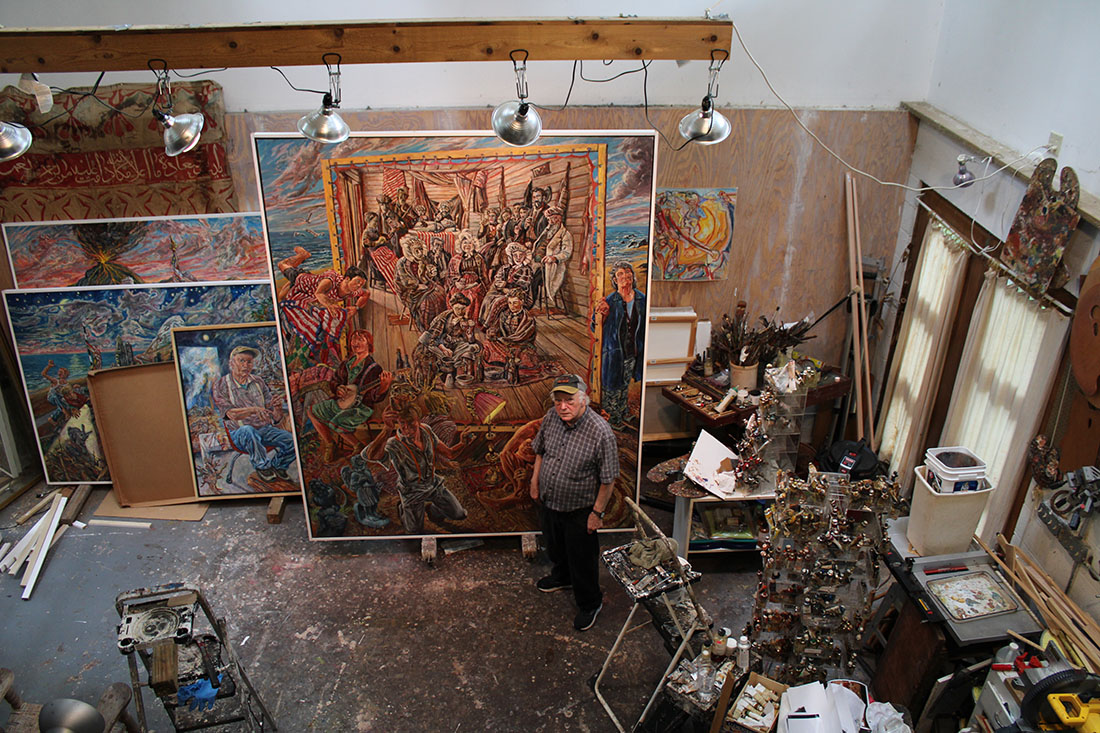 A renowned painter, muralist and educator, Art Rosenbaum was also a performer, folklorist and "song catcher" of traditional American music. Gifted with deep talent, a big heart and an unparalleled passion for the arts, he not only inspired others through his work, but also helped preserve the legacy of those who inspired him. He died at the age of 83 in the early morning of September 4 after a long battle with cancer.
Born in 1938 in Ogdensburg, NY, Rosenbaum earned an AB in art history and an MA in painting from Columbia University in New York, where he met and married fellow artist Margo Newmark. A decade after their marriage, Art, Margo and their son Neil moved to Athens, where he taught at the Lamar Dodd School of Art for the next 30 years, earning the title of the first Wheatley Professor of Fine Arts upon his retirement. in 2006. As an educator, he influenced a generation of emerging artists with his contagious enthusiasm and profound knowledge. He was known for welcoming every student with genuine curiosity and respect, no matter their age or skill level, with the knowledge that they might have the potential to become a future colleague or friend.
Belonging to a wave of artists who reintroduced figuration and storytelling in a period dominated by abstraction, his distinctive style of painting uses expressive realism to create scenes that vibrate with movement. Often imbued with real-life characters and allegorical references, his paintings transcend space and time, weaving together threads drawn from different memories, historical narratives and current contemplations.
Art and Margo maintained independent art practices that were mostly parallel, but sometimes intertwined for stunning results. Frequently traveling together, the pair combined their talents to create multi-dimensional representations of musicians and artists through combinations of recordings, essays, annotations, paintings, illustrations and photographs.
Art's passion for documenting traditional American music motivated him to travel off the beaten path throughout the South and Midwest in search of blues, ballads, spirituals, fiddle tunes and other melodies. vernaculars that might otherwise have been lost to history. His field recordings are preserved across more than a dozen releases, several of which are included on the Smithsonian Folkways label. In 2008, his vast box set Art of Field Recording Volume I: Fifty Years of Traditional American Music Documented by Art Rosenbaum won a Grammy Award for Best Historical Album.
In addition to several instruction books on how to play the old-fashioned mountain banjo, he is the author Folk Visions & Voices: Traditional Music and Song in North Georgia, Shout Because You're Free: The African American Ring Shout Tradition on the Georgia Coast and The Book Mary Lomax Ballad: The Great American Traditional Singer of the 21st Century. A catalog titled Weaving his art on golden looms: paintings and drawings by Art Rosenbaum accompanied his first major retrospective exhibition at the Georgia Museum of Art in 2006.
Naturally, Art was a musician and multi-instrumentalist himself who released several LPs and CDs of his own playing and singing. Known for picking up a guitar, banjo or fiddle and joining in with other performers, he was also the beloved captain of the Around the Globe Sea Chantey Singers, an ensemble of art students recruited to carry on the tradition of singing. maritime work.
Founder of the North Georgia Folk Festival, he created his popular posters every year except for his upcoming 37th edition, for which Margo illustrated a portrait of the art. Although unable to perform again as he had hoped, his presence will be felt during a tribute held at the festival in Sandy Creek Park on September 24 at 4 p.m.
Exhibited at Tif Sigfrids in New York last month, Art's latest painting was a portrait of REM frontman and former student-turned-friend Michael Stipe. An hour's drive from Athens, the Mason-Scharfenstein Museum of Art at the University of Piedmont in Demorest is currently exhibiting a collection of his work until October 13, with a reception scheduled for October 6 from 5-7 p.m. Organized by the Linda Matney Gallery, the Pearl Fincher Museum of Fine Arts in Spring, TX will host "Three Excellences of Culture: Painting, Poetry and Music, The Artwork Rosenbaum and Friends" from September 24 to January 24. 13.
If this recent burst of exhibitions is any indication, the art was someone who managed to squeeze every last drop out of life. With a devout interest in the human condition, her work demonstrates how to find inspiration in the people and places around you. He will be sorely missed, but so much of him survives through his artwork, recordings, lessons and stories.
Do you like what you just read? Support Flagpole by donating today. Every dollar you donate helps fund our continued mission to provide Athens with quality, independent journalism.