SA musician's 'nervous' Zulu verse catches John Legend's eye: Mthandazo Gatya – SAPeople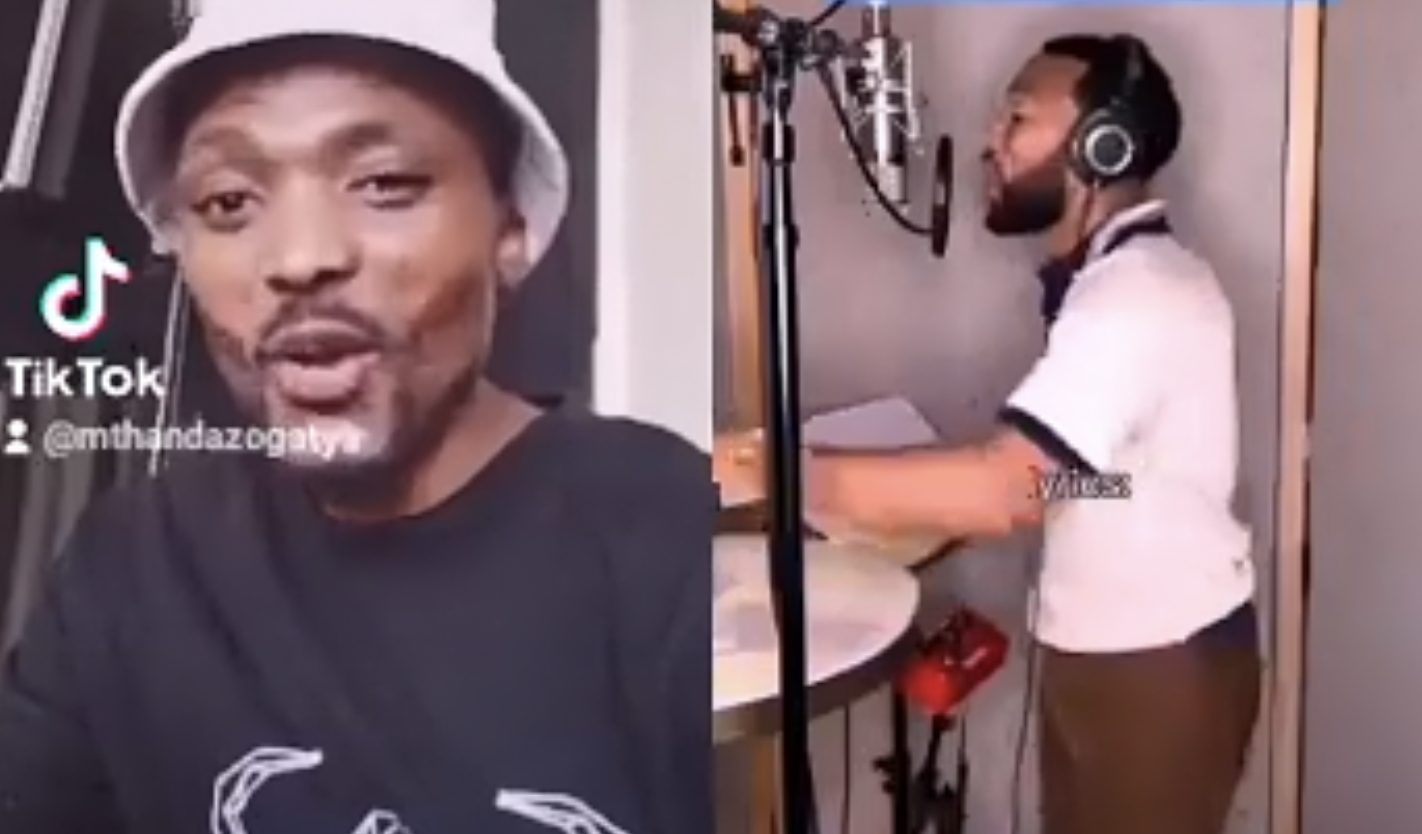 Global superstar John Legend has given South African musician duo Mthandazo Gatya his endorsement of his hit 'Nervous', publicly liking the video on TikTok and retweeting it on Twitter on Monday. And Gatya's dreams could come true with a Black Coffee collab!
Gatya – who had a hit during Lockdown with 'Senzeni' – posted her Zulu verse and duet with Legend on TikTok four days ago, captioning the open verse challenge as "Such a beautiful John Legend song, I had to give it an African touch".
Her magical Zulu lyrics blend Perfectly featuring Legend's music… and the song instantly went viral, receiving over 1.3 million views on TikTok with tons of South Africans tagging John Legend to listen to it.
On Sunday, Gatya thanked her "family" for making sure Legend saw her duo, and said "the good news is he liked it and responded, as to what happens next, we can leave that to God, thank you from the bottom of my heart🙏🏿❤️"
He also thanked The Wife actress Khanyi Mbau who tagged Legend for watching the video (like many others). But there was still more good news to come. On Sunday, a Twitter user from Pretoria posted the video of Gatya saying, "I'm not Zulu but… 🔥🔥🤌🏽❤️"
On Monday, Legend himself retweeted the video, with a big emoji nod of approval: "🔥🔥🔥🔥🔥"
🔥🔥🔥🔥🔥 https://t.co/BVLWYVdHM0

— John Legend (@johnlegend) September 19, 2022
A social media user responded to Legend urging, "Change this man's life, John. Do a collab, invite @RealBlackCoffee to do the arrangement and put some sauce on it.
Before he could say "nervous", Black Coffee had responded by saying, "Let's go!!!!!"
A delighted Gatya said tonight (Tuesday): "Talk about life in your words, when 'Senzeni' blew up I was always asked on my TV and radio tour who I want to work with I would say
@RealBlackCoffee & @sunelmusicianza; fast forward (to today, and) I work with Sun-EL (they met at an awards show) and then this comment from the big man "Let's Go"😳"
Gatya added: "My duet John Legend was a reintroduction, I'd be ungrateful if I said people were sleeping on me, I dropped that song (Selenzi) during lockdown, I got big but I didn't been able to promote it so people know the face it's on 2X Platinum because of them, grateful🙏🏿"
The young musician also thanked Spotify this week for featuring him on the cover of 'Made in South Africa'.
His new EP Journey to Infinity was released on Friday, and with his duet John Legend going viral, it looks like Gatya is on the verge of becoming a legend himself…
For those asking, the Zulu verse, loosely translated, means, "I've been together for years, but you still make my knees shake, letting you down is what I fear most, I'll love you till the end and we will have children, and make your parents happy forever 🙏🏿"
Thank you all for making sure John Legend sees my duo the good news is he loved it and responded, as to what happens next we can leave that up to God thank you from the bottom of my heart🙏🏿❤️ #eskom #shedding #Stage6 pic.twitter.com/8AwVVFBqBH

— #JourneyToInfityEPOutNow (@MthandazoGatya) September 18, 2022
My duet John Legend was a reintroduction I'd be ungrateful if I said people were sleeping on me I dropped that song during lockdown I got big but couldn't promote it for people to know the face is on 2X Platinum because of them, grateful🙏🏿 #Shedding #eskom #stage6 pic.twitter.com/5hp1YDFR5n

— #JourneyToInfityEPOutNow (@MthandazoGatya) September 20, 2022