The Red Rock Indian Band musician will release a new single this summer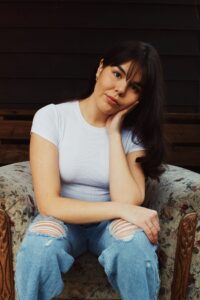 By Rick Garrick
THUNDER BAY — Red Rock Indian Band musician Sara Kae (Kanutski) plans to host a unique release party on June 1 for her song Rise, which she wrote for National Indigenous Peoples Day 2020.
"I wrote it just because I was thinking about myself as a kid and all that I've been through and the battles that I've had as an Indigenous person in a [non-Indigenous] world," says Kae, who grew up with traditional views and was around powwows, ceremonies and sweat lodges when she was young, but began to feel self-conscious about her culture as she got older. "When I left Thunder Bay I realized all the beauty of my culture and how much I wanted to refine that and really identify with myself more and be proud of who I was, so I ran with that and I started writing about this experience and thinking about my sisters.
Kae says she doesn't want her sisters to have the same experiences she had.
"I just want to see a world where it's not a thing, where people don't have these very negative connotations and opinions about Indigenous people and this racist viewpoint," Kae says. "So it just came from that place of wanting to rise up and talk about a life without all of that and praying and hoping that one day it's just going to be the reality."
Kae, who graduated from Music Performance and Technology at Metalworks Institute in Mississauga in 2019 and now works in sales and marketing at the Thunder Bay Symphony Orchestra, says she had to work on the song with Rocket Fuel Records in Toronto via Zoom meetings and phone calls due to the COVID-19 pandemic.
"I actually flew to Toronto to record the final vocals at Metalworks (Studios) and I got COVID-19, so unfortunately I couldn't, but I ended up doing the record here in Thunder Bay," Kae said. "So that's the beauty of a digital world and the Internet, is that I can work with this team in Toronto while I live in my comfortable home in Thunder Bay.
Kae says she worked with Rob Nickerson at his studio in Thunder Bay to record the song.
"We started following the vocals and we did that until we were like, 'Okay, we like this take,'" Kae said. "I'm trying to get to a place where I'm fully comfortable in the studio and I don't think I'm there yet; however, I always go with it: "Let's have fun."
Kae says her first influence in music was her father Ron Kanutski.
"I just saw him sing and naturally picked it up," Kae says. "I started to like it and always wanted to be on stage, and it kind of grew after that."
Kae says she started taking singing lessons when she was eight years old and started performing songs at concerts her father organized when she was around 12 in communities in the northwest of Ontario, including Netmizaaggamig Nishnaabeg, Longlac, Geraldton and Dryden. .
"It was just all the surrounding communities and we were finding a way for these kids to play and talk with them and hang out with them," Kae explains.
Kae says her future goals are to work with Indigenous youth, make music, and use music as a tool to connect.
"I want to use music as a resource to go to different places and see different places and people," Kae explains. "I want to play and I want to explore. I think I'm just here to grow as an artist and as a person.